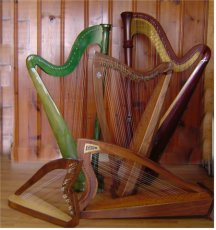 Capital Valley Harp Circle Meeting Location
We meet monthly, generally the second Saturday of the month, at 10:00 a.m. at the Women's Thursday Club, 10625 Fair Oaks Boulevard, in Fair Oaks.
Meetings are open to harpists who can read music and have a basic familiarity with the harp. Dues are $30 per year.
Bring music stand, pencil, music*, harp, tuning equipment, and a small rug for your harp to the meeting.
Meeting times and dates sometimes change. Please refer to the schedule or contact us.
Books we use include:
Finale!, a book of tunes put together for the annual benefit concert of the Washington D.C. Area Folk Harp Society. The book is available from Melody's Music or Sylvia Woods Harp Center.
A Circle of Harps by Nancy Hurrell, available from www.AfghanPress.com
Circle of Song., Christmas by our own Aileen Kelley.
The Harpers Hall Ensemble Book Volumne One

Other music is occasionally available to members by e-mail

Home